Creative Destruction in "The Man in the White Suit"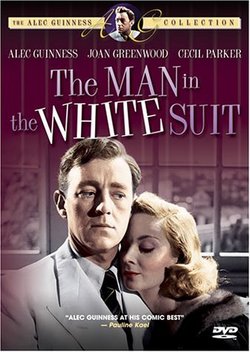 Source: Amason.com

From David Thomson's Amazon.com review of the movie "The Man in the White Suit":
The Man in the White Suit focusses on the destructive aspects of all new inventions. Although Joseph Schumpeter's name is never mentioned, his creative destruction concept pervades the story line. Sidney Stratton (Alec Guinness ) a non-credentialled and eccentric scientist who creates a new cloth that apparently will not wear out nor get dirty. The overall human community will enormously benefit---but what about those people who earn a living in the impacted industry?
Read the whole review, and others, at: http://www.amazon.com/gp/product/B00006FMAV/104-8533764-5015948?v=glance&n=130&n=507846&s=dvd&v=glance