Richard Langlois on Why Capitalism Needs the Entrepreneur

















Source of book image: http://www.amazon.com/Dynamics-Industrial-Cpitalism-Schumpeter-Lectures/dp/0415771676/ref=sr_11_1?ie=UTF8&qid=1204828232&sr=11-1




Schumpeter is sometimes viewed as having predicted the obsolescence of the entrepreneur, although Langlois documents that Schumpeter was always of two minds on this issue.
Langlois discusses Schumpeter's ambivalence and the broader issue of the roles of the entrepreneur and the corporation in his erudite and useful book on The Dynamics of Industrial Capitalism. He concludes that changing economic conditions will always require new industrial structures, and the entrepreneur will always be needed to get these new structures built.
(I have written a brief positive review of the book that has recently appeared online.)




Reference to Langlois' book:
Langlois, Richard N. The Dynamics of Industrial Capitalism: Schumpeter, Chandler and the New Economy. London: Routledge, 2006.



Reference to my review of Langlois' book:
Diamond, Arthur M., Jr. "Review of Richard N. Langlois, The Dynamics of Industrial Capitalism: Schumpeter, Chandler and the New Economy." EH.Net Economic History Services, Aug 6 2009. URL: http://eh.net/bookreviews/library/1442



Apparently Langlois likes my review:
http://organizationsandmarkets.com/2009/08/07/another-nanosecond-of-fame/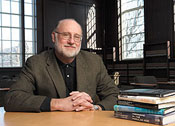 "Richard N. Langlois." Source of photo and caption: http://www.clas.uconn.edu/facultysnapshots/images/langlois.jpg