Lower Taxes Encourage Entrepreneurship in Ireland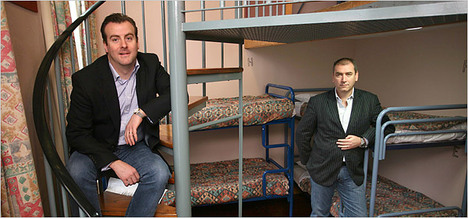 "Feargal Mooney, left, is chief operating officer for Web Reservations International. Ray Nolan is the founder and chief executive officer. Web Reservations provides booking and management for hostels that cater to economy travelers." Source of the caption and photo: online version of the NYT article quoted and cited below.
(p. C8) DUBLIN -- Ireland is now alive with enthusiasm for entrepreneurs, who seemingly rank just below rock stars in popularity.

. . .

The relatively new emphasis on entrepreneurs in Ireland is the culmination of nearly four decades of government policies that have lifted the economy from centuries of poverty to modern prosperity.

The change began when Ireland entered the European Union in 1973. In subsequent years, the government rewrote its tax policies to attract foreign investment by American corporations, made all education free through the university level and changed tax rates and used direct equity investment to encourage Irish people to set up their own businesses.

"The change came in the 1990s," said James Murphy, founder and managing director of Lifes2Good, a marketer of drugstore products for muscle aches, hair loss and other maladies. "Taxes and interest rates came down, and all of a sudden we believed in ourselves."

The new environment also encouraged Ray Nolan, who founded Raven Computing in 1989 to provide software for lawyers to keep track of billable hours. He sold that company and founded another that created software for companies to manage billing and receipts. And in 1999, he founded Web Reservations International to provide booking and property management for hostels that cater to backpackers and economy travelers.

"Hostel owners needed to keep track of people sharing rooms, and bookings for Americans coming to Dublin for three nights," said Feargal Mooney, chief operating officer of Web Reservations. "Hostel accommodations go for 10 to 20 euro a night," he said, or $15 to $30 at today's exchange rates, "so booking reservations in them wasn't profitable for the big travel companies."

For the full story, see:
JAMES FLANIGAN. "ENTREPRENEURIAL EDGE; Ireland Uses Incentives To Help Start-Ups Flourish." The New York Times (Thurs., January 17, 2008): C8.
(Note: ellipsis added.)