Business Model More Effective than Charity at Helping Poor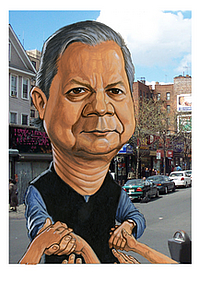 Nobel-Peace-Prize-winning economist Muhammad Yunus. Source of image: online version of the WSJ article quoted and cited below.


(p. A9) In his new book, "Creating a World Without Poverty," Mr. Yunus . . . defines social business as "cause-driven" rather than profit-driven. And yet, it is not a charity: Its owners are entitled to recoup their investments, and the social business must recover its full costs, or more, even as it concentrates on creating products or services that provide a social good. It does this by charging a fee for its products and services. (One example: a business that manufactures and sells low-priced, nutritious food products to underfed children. Grameen America is also a social business.)

Mr. Yunus freely acknowledges that the free market has done a great deal for the poor. "I didn't say that what is there is wrong. I said the structure was not complete. One piece was missing. We couldn't express within the business world all the things we want to do for others."

He argues that in today's world, people whose main ambition is to help those in need tend to be pushed into philanthropy, which isn't always the most efficient way to bring about change. In philanthropy, he says, the "dollar has only one life, you can use it once . . . social business dollar has endless life, it recycles. And you build institutions." He continues, "when it's an institution you bring creativity into it. You bring innovations into it. You bring continuity into it."

Mr. Yunus argues that it's extremely difficult to bring efficiency to charity. But "the moment you bring in a business model, immediately you become concerned about the cost, about the revenue, the sustainability, the surplus generation, how to bring more efficiency, how to bring new technology, how to redesign, each year you review the whole thing . . . charity doesn't have that package."
For the full article, see:
EMILY PARKER. "THE WEEKEND INTERVIEW with Muhammad Yunus; Subprime Lender." The Wall Street Journal (Sat., March 1, 2008): A9.
(Note: first ellipsis added; other ellipses in original.)